Narciso Agúndez Montaño
Edit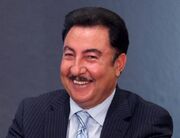 Narciso Agúndez Montaño
(
Santa Anita
,
Baja California Sur
;
26 de octubre
de
1958
) es un político mexicano.
Cargos Públicos
Edit
Gobernador de Baja California Sur 2005-2011
Se presume corrupto por
Edit
Presunto Peculado, enajenacion ilegal de 7 propiedades del estado que vendio por 23.98 Millones de pesos cuando el valor comercial era de 76.2 Millones de pesos.
Presunto Abuso de autoridad
Presunto coalición de servidores públicos
Presunto Falsedad en declaración
Presunto Coparticipación en conductas ilícitas de funcionarios.
Procesos abiertos
Edit
Orden de aprension expedida por un Juez en La Paz, Baja California Sur
Detenido en Mayo del 2012, liberado en diciembre 2012
En libertad bajo fianza de 31,715 pesos.
Asociaciones conocidas
Edit
Partido de la Revolucion Democratica (PRD)
Partido Accion Nacional (PAN)
Partido del Trabajo (PT)
Partido Verde Ecologista de Mexico
Luis Armando Diaz, ex-candidato a gobernador.
José Antonio Agúndez Montaño, Hermano
Exgobernador de Baja California Sur, detenido en Nuevo León por peculado, CNN Mexico, 24 de Mayo 2012
Cae por peculado Narciso Agúndez, exgobernador de Baja California Sur, Proceso, 24 de Mayo 2012
Vuelve Narciso Agúndez a la escena pública, Octavo dia, 29 de Abril 2013
Ad blocker interference detected!
Wikia is a free-to-use site that makes money from advertising. We have a modified experience for viewers using ad blockers

Wikia is not accessible if you've made further modifications. Remove the custom ad blocker rule(s) and the page will load as expected.