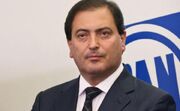 Luis Armando Reynoso Femat
 (n. 
Aguascalientes
, 
Aguascalientes
; 
15 de agosto
 de 
1957
). Es un ingeniero, empresario y político mexicano.
Cargos Públicos
Edit
Gobernador de Aguascalientes 2004-2010
Presidente Municipal de Aguascalientes 1999-2001
Se presume corrupto por
Edit
Peculado por compra falsa de un Tomógrafo de 13.8 Millones de Pesos
Ejercicio indebido de la función pública por donar ilegalmente terrenos al CIDE
Sospechas de enriqueciemiento ilícito
Compra de 4 casas en San Antonio, Texas y terrenos industriales a nombre de su hijo Luis Armando Reynoso López por mas de 6 Millones de Dolares
Procesos abiertos
Edit
Auto de Formal Prisión girada con fianza de 9 Millones de Pesos.
Averiguación previa en curso.
Libre bajo fianza.
Asociaciones conocidas
Edit
Partido Revolucionario Institucional (PRI)
Partido Acción Nacional (PAN)
Luis Armando Reynoso López (hijo)

Raúl Cuadra García, Secretario de Finanzas

Ventura Vilchis Huerta, Director del Instituto de Salud de Aguascalientes
Fernado Quezada Leos, Notario Publico
Miguel Marín del Bosque, Consejero Electoral
David Cisneros Castro, Empleado del Fideicomiso de Desarrollos Industriales de Aguascalientes
Libran orden de arresto contra exgobernador de Aguascalientes, Sipse.com 24 de Mayo
Dictan auto de formal prisión en contra de Luis Armando Reynoso Femat, Excelsior, 11 de Junio 2013
Hijo de Reynoso Femat posee mansiones en Texas, Zocalo Saltillo, 24 de Junio 2013
Solicita Reynoso Femat "rebaja" en fianza impuesta por el juez, Revista Proceso, 3 de Julio 2013
Causa Revuelo la acusacion a Luis Armando Reynoso Femat, La Jornada Aguascalientes, 22 de mayo 2013
Ad blocker interference detected!
Wikia is a free-to-use site that makes money from advertising. We have a modified experience for viewers using ad blockers

Wikia is not accessible if you've made further modifications. Remove the custom ad blocker rule(s) and the page will load as expected.