José Carlos Romero Durán
Edit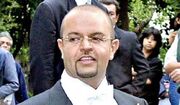 Hijo del lider del sindicato de trabajadores de PEMEX.
Cargos Públicos
Edit
Ninguno
Se presume corrupto por
Edit
Compra de Departamentos en Miami por 7.5 Millones de Dolares.
Procesos abiertos
Edit
Ninguno
Asociaciones conocidas
Edit
 Carlos Romero Deschamps, Lider del sindicato de PEMEX
Regala Romero Deschamps un Ferrari de 2 mdd a su hijo
Hijo de Romero Deschamps compra 'depas' en Miami por 7.5 mdd
Ad blocker interference detected!
Wikia is a free-to-use site that makes money from advertising. We have a modified experience for viewers using ad blockers

Wikia is not accessible if you've made further modifications. Remove the custom ad blocker rule(s) and the page will load as expected.