Elba Esther Gordillo
Edit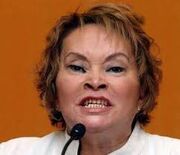 Elba Esther Gordillo Morales
 (
Comitán
, 
Chiapas
, 
6 de febrero
 de 
1945
) es una maestra, política y sindicalista 
mexicana
.
Cargos Públicos
Edit
Lider del sindicato de Trabajadores del Estado (SNTE) desde 1989 hasta 2013

Secretaria General del PRI de 2002 a 2005

Presidenta de la camara de diputados 1987

Diputada por el Distrito Federal, 1977, 1985 y 1988

Numerosos cargos en el partido Revolucionario Institucional, SNTE, fundadora de Partido Nueva Alianza.

Actor politico preponderante en Mexico por mas de 4 decadas.
Se presume corrupta por
Edit
Presunto desvio de recursos por 2,000 Millones de pesos
Presunto Lavado de dinero
Existencia de cuentas en Suiza y Lichtenstein a nombre de su madre (difunta)
Gastarse 3 Millones de dolares en la exclusiva tienda Neiman Marcus
Procesos abiertos
Edit
Averiguaciones previas PGR/SEIDO/UEIORPIFAM/017/2013 y PGR/SEIDO/UEIORPIFAM/016/2013
Asociaciones conocidas
Edit
Partido Revolucionario Institucional
Partido Nueva Alianza
La Maestra fue considerada un actor politico que se asocio y contendio con cada figura importante de la politica mexicana durante 4 decadas.
What Elba Esther Gordillo's Arrest Means for Mexico's Other Power Players Mexico union head Gordillo charged with organised crime álter-instructivo: cómo gastarse 3 millones de dólares en neiman marcus siguiendo los gustos de elba esther Detienen a Elba Esther Gordillo, PGR la acusa de malversación de fondos Frenan tres averiguaciones previas contra Elba Esther Gordillo    
Ad blocker interference detected!
Wikia is a free-to-use site that makes money from advertising. We have a modified experience for viewers using ad blockers

Wikia is not accessible if you've made further modifications. Remove the custom ad blocker rule(s) and the page will load as expected.