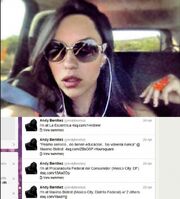 Andrea "Lady Profeco" Benitez Gonzalez
Edit
Hija del ex-procurador de la Procuraduria Federal del Consumidor.
Cargos Públicos
Edit
Se presuma corrupta por
Edit
Abuso de autoridad. Ocasiono el cierre del restaurante Maximo Bistrot por parte de inspectores de la Procuraduría Federal del Consumidor (PROFECO) debido a que no le fue otorgada la mesa que queria.
Procesos abiertos
Edit
Su padre fue destituido de su puesto de Procurador de la PROFECO debido al incidente.
Asociaciones conocidas
Edit
Humberto Benites Trevino, Papa
Top Mexican lawyer's daughter causes restaurant shutdown after staff made her wait for table, Daily news, abril 29 2013 Mexico president fires agency head over restaurant scandal, Los Angeles Times, 15 de Mayo 2013
Ad blocker interference detected!
Wikia is a free-to-use site that makes money from advertising. We have a modified experience for viewers using ad blockers

Wikia is not accessible if you've made further modifications. Remove the custom ad blocker rule(s) and the page will load as expected.